Here's the moment we've all been waiting for. I'm delighted to share the full lineup for our 2022 hybrid festival, which will be screened in-person at Innis Town Hall in Toronto from November 18-20, and online all across Canada from November 21-27 on the Eventive Virtual platform. Thanks are in order to our amazing programming team: Linda Taillon, Keith Klegman, Cameron Carpenter, Amanda Clarke, Diana Sernick, Shelagh Rowan-Legg, Isabel Cupryn, Caterina Micci, Ariane Molinatti, Sylvia Zhang, Iris Bagola, Carolyn Dunk, Kyle McCarthy, Brennan Tilley, Hillary Butler, Aashna Thakkar, Lauren Roerick, Trevor Tranter, Felix De Leon, and KJ Tommy. I couldn't have done it without your help!
Tickets and passes are on sale now, and you can also see the schedule and the film guide at our festival mini-site. Hope you'll join us in November!
---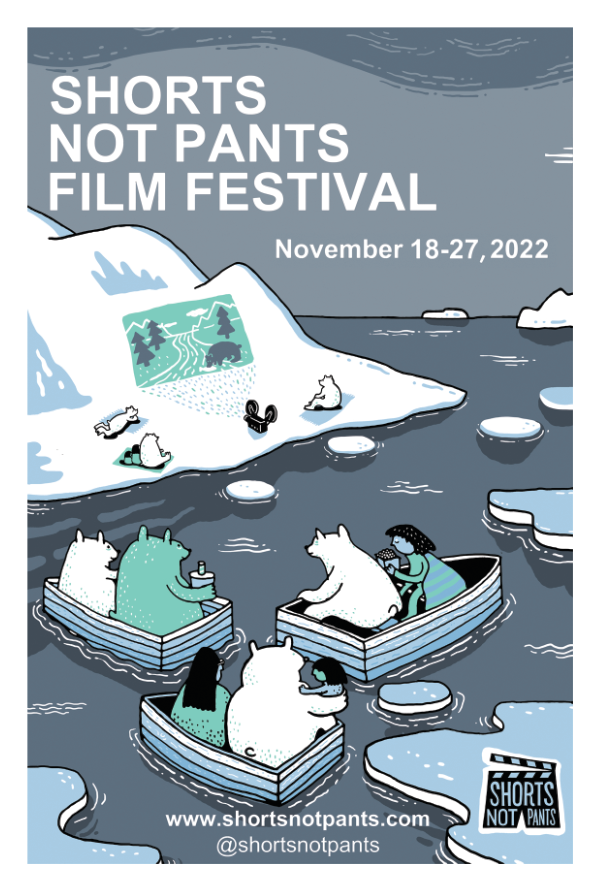 57 films from 22 countries. Narrative films (39), documentaries (8), and animated films (10); something for everyone. Some other facts: 16 Canadian films, 23 films directed by women, 10 student films.
---
36 (Spain, 21 minutes)
Dir: Ana Lambarri Tellaeche
Sara and David are waiting for a visit at home, David's new bosses come for a drink. Sara prepares herself, an insignificant detail makes David angry and he mistreats her, hits and humiliates her, it is not the first time. After the violence, Sara has to face the social act. Testing the facade that both have created to hide reality.
A DEAD SEA (Israel, 12 minutes)
Dir: Nahd Bashir
Kamel, a Palestinian man in his 50s, suffers from autism and travels with his paralyzed sister to the Dead Sea to receive medical treatment in seawater in the hope that it will help him treat psoriasis that has spread through his body. At the beach, he finds himself in an unpleasant situation. A little girl stole his rubber ball and Kamel tried to return it, the crowd gathers and he has a hard time explaining himself, especially since he does not understand Hebrew and the girl does not understand Arabic. The masses suspect that this is a terrorist who kidnaps a girl and in the end a tragedy that seems to stem from a true story that took place in Jerusalem.
A LATE AUGUST FEELING (Canada, 11 minutes)
Dir: Jeffrey Ulrich
A dead father and ailing mother inspire a filmmaker to explore the relationship between time and personal history. Using contemporary and archive family footage, A Late August Feeling looks at love and loss through two lenses in time.
AIRBORNE (Poland, 8 minutes)
Dir: Andrzej Jobczyk
Airborne is a surreal animation that connects the world of flying machines with the kingdom of flora and fauna. Engrossed in the fight, pilot loses his target which leads to tragedy. The plane crashes into the crown of a tree. The tragedy that seems to be the end opens a new stage in history. In the place of the accident, a new life is awakened and now it has to solve the mystery of its origin. Airborne is a story about passion and its roots, and tells us what we have to lose to be born again.
BAD AT THIS (Canada, 6 minutes)
Dir: Jessie Posthumus
Akash is 27 years old and has just learned to swim. In a culture that habitually rewards perfection and performance, Bad at This is a whimsically poignant story about a young man who sucks at his hobby and finds joy in it anyway. Failure is wrapped up in so much baggage – anxiety, stress, intimidation, and social pressure. This doc short is about embracing failure and unlocking a powerful and innovative tool for supporting mental health – letting go of judgement and sucking at what you love.
BONER BLUES (LA DEBANDADE) (France, 15 minutes)
Dir: Fanny Dussart
Gaétan (age 70) pees in dots and dashes. Max (age 50) can no longer get hard. Félix (age 20) shoots too soon. Three men, three generations, one thing in common: manhood malfunctions…
BOOBS (LOLOS) (Canada, 15 minutes)
Dir: Marie Valade
A surrealist journey through a woman's love-hate relationship with her breasts, her body, her femininity.
CATCAVE HYSTERIA (Sweden, 20 minutes)
Dir: Angelika Abramovitch
A friendship is at stake when love comes in the way. A hurtful conversation is overheard. Two sisters bond brakes when a bloody secret is revealed. The Girls Bathroom – it's a place full of conflict that forces the truth to the surface. But is at the same time forgiving and accepting.
CORNERS (Canada, 13 minutes)
Dir: James Brylowski
The government has implemented mandatory corner inspections for buildings where civilians go; grocery stores, malls, furniture stores. When a dedicated, passionate, corner inspector is replaced, it becomes apparent that this is one business where you can't cut corners.
CRADLE (Romania, 4 minutes)
Dir: Paul Muresan
People tend to hurt each other, leaving long lasting wounds, and this is no different amongst families.
DAD'S SNEAKERS (Ukraine, 19 minutes)
Dir: Olha Zhurba
An immersive insight into the last hours of 13-year-old Sasha's life in a boarding school for children deprived of parental care. He is one of the luckiest – an American family finally adopted him. Today he will move to another country forever but there's something that won't let him go.
DEEP BLUE (FOND BLEU) (Canada, 11 minutes)
Dir: Franie-Éléonore Bernier
A hotel phone rings. A woman answers. It is the sea calling.
DRIBBLE (Iran, 15 minutes)
Dirs: Ali Lavarimonfared, Nazafarin Hassanpour
Passion in soccer causes affection between brothers.
DUO EN SOUS-SOL (Belgium, 12 minutes)
Dir: Vinciane Le Men
A close interrogation in a police station. A detective grills a psychoanalyst suspected of homicide on one of her patients. The exchanges are tough and leave no doubt as to the guilt of the suspect. Manipulation, power grab, game of seduction… but what is the true stake of this investigation?
FOR THE BEES (USA, 16 minutes)
Dir: Chloë Fitzmaurice
Khaled came from war-torn Yemen to Oakland, California to pursue beekeeping and a better life. But with an increasing number of uncertainties, life's not always as sweet as honey.
FREE FALL (France, 19 minutes)
Dir: Emmanuel Tenenbaum
Tom is a young trader in a London bank, whose recent performance has put his job on the line. When the first plane hits the World Trade Center on the morning of September 11th 2001, Tom jumps into the biggest trade of his life. Inspired by a true story.
FREEDOM SWIMMER (UK, 15 minutes)
Dir: Olivia Martin-McGuire
The story of a grandfather's perilous swim from China to Hong Kong that parallels his granddaughter's own quest for a new freedom.
GOOD MORNING MIDNIGHT (BONJOUR MINUIT) (France, 20 minutes)
Dir: Elisabeth Silveiro
Sasha (Fanny Ardant) goes to a Parisian bar to drown her lonely sorrows, as she does every night. But this time, she meets Paolo, an attractive man who strikes up a conversation.
GWENDOLINE (France,22 minutes)
Dir: Joaquim Bayle
Roaming the streets on their tandem bike, young french post-punk musicians Micka and Pierre are filled with despair as they desperately search for a crowd to play to.
HEART VALLEY (UK, 19 minutes)
Dir: Christian Cargill
Heart Valley follows a day in the life of Wilf Davies, a shepherd from the small village of Cellan in Wales. Kind and inquisitive, the film looks at the world through Wilf's eyes, asking questions about what it is we should truly value.
HOLD UP (USA, 15 minutes)
Dir: Alex Rollins Berg
Graham is in a rush to get home. But when Hashim, a homeless East African man, approaches him on the subway platform, his night takes an unexpected turn.
HOMARD AU COEUR (Canada, 2 minutes)
Dir: Jenna Marks
A quirky and lovable fisherman fights to keep his livelihood through years of illness.
I HAVE NO TEARS, AND I MUST CRY (USA, 13 minutes)
Dir: Luis Fernando Puente
Maria Luisa is ready to escape immigration limbo, but when her green card interview takes an unexpected turn, she faces the anxiety of losing the life she had planned.
I LIVE WITH THE DEVIL (UK, 21 minutes)
Dir: Mark J. Blackman
Following the death of a resident, a young care home worker, battling with crippling anxiety, must confront her greatest nemesis, herself.
IDENTIBYE (Iran, 15 minutes)
Dir: Sajjad Shahhatami
The protagonist of the story faces a dilemma of choosing between sense and sensibility regarding one's innermost feelings. He has been judged from the very beginning by the ones closest to him. The fear of these never-ending judgments fills him with doubt and he has to work against the clock to achieve his goal as he knows that one's true identity is what matters most to them.
IF YOU WERE ME (Canada, 14 minutes)
Dir: Ingrid Veninger
Intimate, awkward, anxious and uncertain, a young couple ask each other questions with the hopes of becoming closer.
IN UTERO (France, 20 minutes)
Dir: Yann Tivrier
"It's our child I'm carrying, it's not a disease". Alice's pregnancy is not going as planned. Leo, on the other hand, does not wonder anymore about the father he could have become. After a last appointment, the couple decides to isolate themselves for one evening. Alice desperately hopes to find Leo's support.
INSIDE MY HEART (Canada, 2 minutes)
Dir: Elisa Escalera Aguilera
Inside My Heart centres on a baby girl who is in gestation. She might not be growing inside a belly, but she is growing inside a heart that already dreams of her arrival.
JAAGRAN (India, 19 minutes)
Dirs: Hardik Sadhwani, Ritviq Joshi
Desperate and frustrated by the stale monotony of his life, Rameshwar, a naive auto rickshaw driver, decides to trade in a good night's sleep for a chance to earn a quick buck, while his family's future hangs in the balance.
JACKSON (UK, 17 minutes)
Dir: Emma Miranda Moore
Teenager Amira avoids a haunted house visit using her unique imagination. 'Jackson' is a rainbow-hued onion of memory and invented story – the layers of which are revealed by someone who wouldn't have thought of telling you anything is wrong.
KAYAK (France, 6 minutes)
Dirs: Solène Bosseboeuf, Flore Dechorgnat, Tiphaine Klein, Auguste Lefort, Antoine Rossi
A father and his baby's kayak outing along a peaceful river turns out to be a real family adventure.
KEEPERS (Italy, 7 minutes)
Dir: Massimo Garavini
In a land wild and out of time, a curious lonely girl finds some strange yellow objects. Connecting with them and the surroundings, she will develop her own identity. Keepers is a suggestive representation about recognising and preserve the concept of beauty.
KHADIGA (Egypt, 20 minutes)
Dir: Morad Mostafa
Khadiga, a young 16 year-old mother, lives alone with her baby after her husband leaves to work in a remote city; in an ordinary day she makes her way through the hustle of Cairo streets to do some visits where she feels uncomfortable with the surroundings.
KOWALSKY (Luxembourg, 14 minutes)
Dir: Émile V. Schlesser
Once a wealthy family, the Kowalskys' fortune is gradually falling apart. When the only son comes begging his widowed mother for help, an ugly row escalates between the two; one that forces both of them to absurd choices and cruel deeds. A darkly twisted satire about the toxic masquerade between a mother and her son.
LUW (Netherlands, 8 minutes)
Dir: Jos van Meerveld
Bram is a father and husband of a loving wife, living in the Bible Belt. One afternoon, he goes into the woods to have sex with another man. Afterwards, Bram notices that he's being watched by the eight year old Tess. Later that night Tess shows up at the front door to pick up her sports bag. Bram proposes to drive her, even though secretly he has ulterior motives.
MAMMA (Norway, 15 minutes)
Dir: Aslak Danbolt
It's Christmas Eve, and Synnøve is searching for her drug-addicted daughter Michelle in an almost desolated city. (Synnøve and Michelle are mother and daughter in real life and play versions of themselves in a story that is very close to their own lives.)
MURDER TONGUE (Pakistan, 18 minutes)
Dir: Ali Sohail Jaura
It is May of 1992. The state sanctioned "Operation" has put the city of Karachi in constant unrest. Abdul Aziz Ansari wakes up at night and is informed by his daughter-in-law Naseema that his son hasn't returned home. As a knock on their door later at night summons them to the hospital, what they witness along the way is known today as the most brutal chapter of the city's history, a sentiment of hatred towards their race, deep rooted beneath the system.
ON THE SURFACE (Iceland, 4 minutes)
Dir: Fan Sissoko
A young Black woman goes swimming in the Icelandic sea and reflects on her experience of raising a child in a country that feels nothing like home. As she enters the freezing water, she relives her traumatic pregnancy. Being in the wild and facing her fears is helping her heal.
ONE NEVER KILLS FOR LOVE (ON NE TUE JAMAIS PAR AMOUR) (Canada, 14 minutes)
Dir: Manon Testud
They meet in the dark of the night. Women, sisters, friends: a feminist group gathering to leave writings on the walls of Montreal. Their challenge: raise awareness to end systemic violence endured by women and minorities. Plain collages for a strong message: feminicides must stop!
OPÉRATION CARCAJOU (Canada, 18 minutes)
Dir: Nicolas Krief
A police search disturbs the peace and quiet of a suburban family and arouses suspicions in Nicolas about his father Sylvain, a secret man with suspicious activities.
PISCINE PRO (Canada, 8 minutes)
Dir: Alec Pronovost
Freshly graduated from his bachelor's degree in history and civilization, Charles-Olivier struggles to find a job in his field and must fall back on accepting a position as a clerk in a pool shop. Feeling down, he navigates his new profession as best he can.
RUMINATION (Canada, 3 minutes)
Dir: Ashleigh Vaillancourt
At night, a woman's mind wanders as she chops firewood.
SCARING WOMEN AT NIGHT (Canada, 11 minutes)
Dir: Karimah Zakia Issa
Two strangers are scared on a late walk home. As they try to escape one another, their worlds collide at an intersection forcing them to question who they're afraid of and why.
SEULE TOD (USA, 9 minutes)
Dir: Jim Middleton
A disgruntled man finds that a shave will not make him gruntled, and even our own demons must obey the first law of thermodynamics. Destinations are arbitrary – it is always about the journey.
SHE KEEPS ME (Canada, 16 minutes)
Dir: Erica Orofino
The strained relationship between two sisters reaches a dangerous climax in this exploration of family ties, mental illness, and self sacrifice.
SHORELINE SOCIALITES (Canada, 10 minutes)
Dir: Inder Nirwan
Cormorants have long been maligned and killed based on misleading and inaccurate claims by extremist angling organizations. Thousands of beautiful birds are maimed and killed needlessly every year. This film is part of a larger advocacy campaign and was developed to dispel the myths about these beautiful birds and help the audience gain a new understanding and appreciation of why cormorants belong in our Great Lakes ecosystem and should be celebrated rather than killed.
SIDERAL (France, 15 minutes)
Dir: Carlos Segundo
In Natal, in northeast Brazil, the country is preparing to launch its first manned spaceship. A couple lives with their two children near the space centre; the husband is a mechanic while the wife is a cleaning lady, who dreams of other horizons.
SMALL CONGRATULATIONS (Canada, 6 minutes)
Dir: Jessie Posthumus
Izzy is a queer writer from Toronto. After quitting hockey as an embarrassed pre-teen, they tell the story of joining a women's community league to gain confidence and access to a community they deeply value. In a culture that habitually rewards perfection and performance, Small Congratulations is a whimsically poignant story about a young person who sucks at their hobby – hockey – and finds joy in it anyway. Failure is wrapped up in so much baggage – anxiety, stress, intimidation, and social pressure. This doc short is about embracing failure and unlocking a powerful and innovative tool for supporting mental health – letting go of judgement and sucking at what you love.
STAGNANT (Poland, 18 minutes)
Dir: Konrad Kultys
Tough skinhead Adam ignores his disability; despite it he tries to dominate his loved ones. A decision by his caring brother to change jobs pushes Adam to reconsider his situation and to face up to his own limitations.
THE DIAMOND (Sweden, 14 minutes)
Dir: Vedran Rupic
Stefan is lonely with a blinding ambition to make friends. One day he stumbles upon a diamond in the woods. Unable to reach it, the solution presents itself in the form of an even smaller man.
THE ELECTRICITY IN ME (UK, 10 minutes)
Dir: Mat Sheldon
Years after giving up her newborn son for adoption, a woman confronts her trauma and memories of the man she calls 'my monster'.
THE FURNITURE (LE MOBILIER) (Belgium, 16 minutes)
Dir: Mehdi Pierret
A contemporary art gallery organizes an exhibition presenting several art performances. The cleaning lady Ilidia has trouble understanding the aim of such performances and gets irritated by the visitors' behaviours.The evening could end badly.
THE MOLT (LA MUE) (France, 15 minutes)
Dir: Willy Orr
Ashille and Steve lost their dad recently. They have to sell his house. Yet Ashille lives in his father's place, lost in his grief. He doesn't clean anything and smokes joints in front of childish cartoons. Yet, he will discover that he is not alone in this house. Some bedbugs are in his mattress. They start to persecute him. He'll soon need his brother's help to go over this difficult situation.
THE NIGHT WATCH (RONDE DE NUIT) (Belgium, 12 minutes)
Dir: Julien Regnard
A couple rushes out of a glamorous party. On their way home, an argument leads to a brutal car accident. When George regains consciousness, Christina has disappeared. He will then experience a real descent into hell.
THE PAINTING (LE TABLEAU) (Switzerland, 14 minutes)
Dir: Ludo Jaccard
On a Sunday afternoon, a father convene his wife and their two children in the living room. They need to make an important decision: Where to hang the painting he just bought? Facing both his family's lack of interest and the technical issues related to the hanging, the father will find himself swept away by an existential crisis.
THE SEA CALLS FOR ME (Indonesia, 17 minutes)
Dir: Tumpal Tampubolon
Sura lives alone in the fishing village, waiting for his father to return home. When one day he finds an inflatable sex doll, he finds a companion and a surrogate parent. But this companionship is threatened by Argo, who wants to take it away from Sura.
WARSHA (France, 16 minutes)
Dir: Dania Bdeir
Mohammad is a crane operator working in Beirut. One morning he volunteers to take on one of the tallest and notoriously most dangerous cranes in Lebanon. Away from everyone's eyes, he is able to live out his secret passion and find freedom.