Here's the moment we've all been waiting for. I'm delighted to share the full lineup for our 2021 (virtual) festival, which will be screened online all across Canada from November 19-28 on the Eventive Virtual platform. Thanks are in order to our amazing programming team: Linda Taillon, Keith Klegman, Cameron Carpenter, Amanda Clarke, Diana Sernick, Shelagh Rowan-Legg, Isabel Cupryn, Caterina Micci, KJ Tommy, Ariane Molinatti, Sylvia Zhang, Iris Bagola, Carolyn Dunk, Kyle McCarthy, Brennan Tilley, Hillary Butler, Romina Garcia, Alessandro Romano, and Alan McLane. I couldn't have done it without your help!
Tickets and passes are on sale now, and you can also see the schedule and the film guide at our festival mini-site. Hope you'll join us in November!
---
70 films from 33 countries. Narrative films (43), documentaries (14), and animated films (13); something for everyone. Some other facts: 15 Canadian films, 34 films directed by women, 11 student films.
---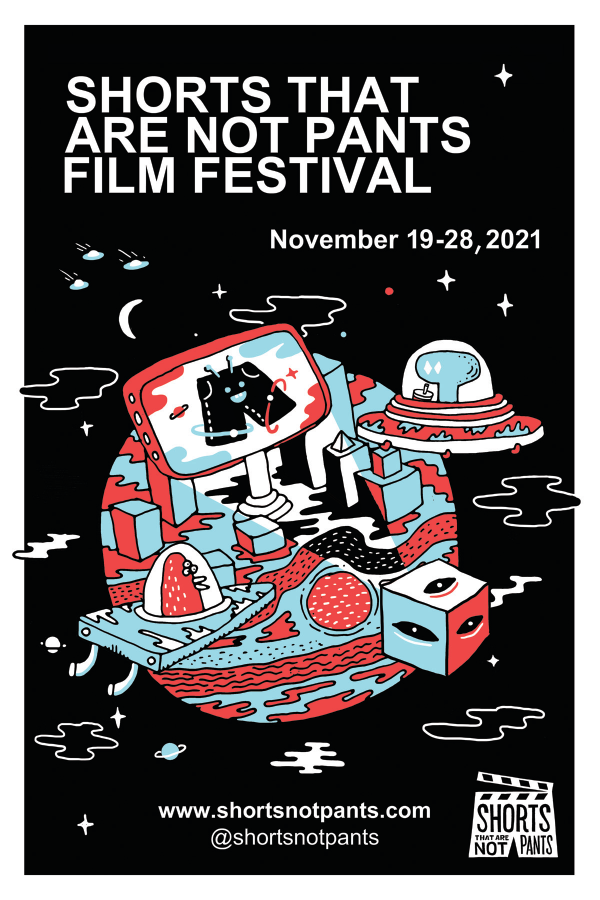 ---
1-800-D-DIRECT (UK, 11 minutes)
Dir: Clare Macdonald
Joyce and Frances work at 1-800-D-Direct, the latest and greatest dishwasher sales company in 1960s Manhattan. But when a customer is given the wrong data, the women must navigate her out of a life or death situation.
2019 (France, 3 minutes)
Dir: Julie Boutteville
"Imagination is what tends to become real." – André Breton
AL-SIT (Sudan, 20 minutes)
Dir: Suzannah Mirghani
In a cotton-farming village in Sudan, 15-year-old Nafisa has a crush on Babiker, but her parents have arranged her marriage to Nadir, a young Sudanese businessman living abroad. Nafisa's grandmother Al-Sit, the powerful village matriarch, has her own plans for Nafisa's future. But can Nafisa choose for herself?
AMISSA ANIMA (Australia, 15 minutes)
Dir: Tatiana Doroshenko
Four boys survive on the night streets of St Kilda in the 1980s, turning tricks for a feed and drugs. The fragile balance is broken when an act of betrayal pushes them to perform an unspeakable act. Based on true events.
APOSTASY, OR UNTITLED FILM #1 (Brazil, 10 minutes)
Dir: Marcelo Mattina
Dante, a young man who has just lost his father, tries to convince his friend Angela that they are both characters in a movie and that his Dad's funeral is nothing more than a cinematic fabrication.
ARABACCIU (France, 20 minutes)
Dir: Alexandre Oppecini
One night, in a bar in Corsica, Stella drowns her loneliness in red wine. She helps Hakim, young Moroccan immigrant worker accused of stealing a phone. An unexpected and poetic encounter, getting her out of her difficult reality.
ARKA (Croatia, 15 minutes)
Dir: Natko Stipanicev
A grandiose transoceanic cruise ship sailing the seas.
BABLINGA (Burkina Faso/France, 15 minutes)
Dir: Fabien Dao
Moktar always said that when he shuts his bar Bablinga down, he will return to Burkina. The day has arrived, but he's not really ready to leave. Despite himself, ghosts invite themselves to celebrate a last evening.
BAD SEEDS (MAUVAISES HERBES) (Canada, 6 minutes)
Dir: Claude Cloutier
Bad Seeds takes us to a bizarre world populated by carnivorous plants that can change shapes the way a chameleon changes colours. The veteran director of Carface deftly connects growth with rivalry and evolution with competition, crafting an increasingly shocking duel that's peppered with allusions to the western, the Cold War, board games, and much more.
BERNARD CHECKS IN (USA, 18 minutes)
Dir: Michael Basta
Bernard checks himself into a motel for yet another one of his business trips. When he accidentally stumbles into the wrong motel room, he meets a couple with a mischievous proposition. What at first seems enticing soon becomes fraught with tension as simmering conflicts between the lovers flare up, leaving Bernard to play unwitting mediator to their messy drama.
THE BEST ORCHESTRA IN THE WORLD (Austria, 14 minutes)
Dir: Henning Backhaus
Ingbert, the sock, applies for a position as double bass player at the Vienna State Orchestra. Bad idea.
THE BEYOND (L'AU-DELÀ) (Switzerland, 10 minutes)
Dir: Daniel Maurer
The second wave of Covid significantly increased mortality in hospitals. What does this mean for the work of Mathieu, employed in the morgue of a regional hospital center? How does he relate to these people whose souls have recently left their bodies?
THE BLACK VEIL (Qatar, 17 minutes)
Dir: A.J. Al-Thani
Reem, a young Iraqi woman, escapes her home in the middle of the night. She lives in Mosul after being forced to marry an ISIS soldier. Reem finds help in a taxi driver named Ahmed to help her escape Mosul and find her family again.
BLUE BISON (USA, 18 minutes)
Dirs: Camrus Johnson, Stefano Pennisi
A group of vigilantes abducts wrongdoers and coerces them into confessions, forcing them back on the straight and narrow. Tonight their attempt at justice has unexpected consequences.
BRIDGING THE GAP (UK, 7 minutes)
Dirs: Nina Ross, Meg Barrett
Age 18 Meg started hearing a voice. She tried ignoring it, didn't tell a soul, yet the voice grew. More abusive, more delusional and often completely out of her control. Eventually, her paranoia wore her down. She experienced "an explosion of mental health," followed by years of medical intervention and institutions.
Bridging the Gap offers a snapshot of Meg's world as she grapples with the boundaries between her internal delusions and her everyday life. This film will challenge your perspective on hearing voices, open your eyes on medicalization, and beg the question "what even is reality?"
THE BRIGHT FIRE (China, 15 minutes)
Dir: Zoe Zou
Two young cousins find a wonderland outside of their unstable families, without knowing the friendship they have will eventually come to an end.
DON'T BE SUCH A WUSS (FAIS PA TA VICTIME) (France, 14 minutes)
Dir: Julian Sarica Polo
Hugo is a frail young boy who is being harrassed by a gang of older teenagers. On the first day of school vacation, one of his bullies shows up at his house unannounced.
ELECTRIC BODIES (France, 15 minutes)
Dir: Antoine Janot
In a future where human memory is recorded on cards and biomechanical bodies are replaced by biological ones, anyone can change appearance following their mood, as long as they can afford it. But people who can not continue to rent their expensive bodies are forced to abandon them. This is what threatens Emma Beaufort.
EMPTY SEATS (Germany, 3 minutes)
Dir: Anne Rietmeijer
An empty seat in an empty theatre decides to go and search for people.
EXCLUDED BY DESIGN (Canada, 4 minutes)
Dirs: Simon Madore, Gabriel Tougas
Writer and community organizer Dave Meslin thinks that bad public notices are hurting our democracy – and he's calling on graphic designers to show us what we're missing.
The film was produced by Hot Docs through the Citizen Minutes initiative.
FALL OF THE IBIS KING (Ireland, 10 minutes)
Dirs: Mikai Geronimo, Josh O'Caoimh
The antagonist of a dark opera becomes increasingly unsettled following the unlikely return of the former lead actor.
FORGET ME NOT (USA, 7 minutes)
Dirs: Courtney LeBlanc, Saige Guevara
In an attempt to preserve her legacy, a cartoon classic wages war on her rebooted counterpart.
GET OUT OF MY HEAD (Canada, 11 minutes)
Dir: Pamela Fuller
A short film about a girl who needs to learn that in order to be understood and truly liked she needs to "get out of her head" and be herself.
THE HANDYMAN (Australia, 15 minutes)
Dir: Nicholas Clifford
Alone at her country estate, Evelyn attempts to end her life but is interrupted by the arrival of an awkward but endearing handyman. Evelyn's desire to make him leave collides with his need of a job and Evelyn discovers the Handyman has problems of his own.
HIT THE ROAD, EGG! (Germany, 1 minute)
Dir: Sabine Redlich
What happens after ovulation? I mean, really! This animated short invites you to see the journey of an ovum in a rather fantastic way.
HOME (Netherlands, 13 minutes)
Dir: Guust Mulder
A black comedy about Dirk, a man who buys gadgets to fill his boring life. On a typical evening, he finds out that the relationship of trust with his AI devices is not as reliable as he thought. Can he fix his worsening situation? Or has he already exposed too much of himself to his devices?
HOMEBIRD (UK, 10 minutes)
Dir: Ewa Smyk
Struggling to make it in a big city, a young artist finds herself retreating into the rose-tinted memories of the village she left behind.
HOMESTEAD (Canada, 9 minutes)
Dir: DC Dzoja
A man looks back on his life in an intimate interview with his granddaughter.
HOUSE OF FORTUNE (Iran, 16 minutes)
Dir: Adel Mashoori
Rahil Mohajer was buried alive by her husband and her father on her wedding night because they thought she wasn't a virgin.
HYPERSTITION (France, 6 minutes)
Dir: Stéphane Chis, Maxime Chuchana
Two superstitious people, two parallel lives and a strange day where one's little games have the power to change fate. What if it was enough to walk on the tiles without touching the lines to make our wishes come true?
I AM AFRAID TO FORGET YOUR FACE (Egypt/France, 15 minutes)
Dir: Sameh Alaa
After being separated for 82 days, Adam travels down a rough road to be reunited with the one he loves, whatever it takes.
J'AI LE CAFARD (Kuwait, 14 minutes)
Dir: Maysaa Almumin
A woman in a downhearted mood struggles to keep up appearances in front of her chirpy and driven office colleagues. An encounter with a dying cockroach in the office toilet develops into an absurd friendship, becoming the comforting companionship she needs until she realizes its destructive effects on her life.
JOE BUFFALO (Canada, 16 minutes)
Dir: Amar Chebib
Joe Buffalo is an Indigenous skateboard legend. He's also a survivor of Canada's notorious Indian Residential School system. Following a traumatic childhood and decades of addiction, Joe must face his inner demons to realize his dream of turning pro.
THE LAST SHOWMAN (LE DERNIER SHOWMAN) (France, 9 minutes)
Dir: David Le Meur
In his small cinema full of posters of X-rated movies and 35mm reels from the 1970s to the 2000s, Maurice Laroche evolves like a guardian from another time. The "Beverley," the last pornographic cinema in Paris, will definitely close its doors. It's an opportunity for Maurice to get lost in his memories, to think about his customers he has known for forty years, and finally to prepare for the fateful moment.
LIKE THE ONES I USED TO KNOW (LES GRANDES CLAQUES) (Canada, 18 minutes)
Dir: Annie St-Pierre
December 24, 1983, 10:50PM; Julie and her cousins have eaten too much sugar, Santa Claus is late and Denis, alone in his car, is anxious at the idea of setting foot in his ex-in-law's house to pick up his children. The film is an early coming-of-age that is as awkward as it is poetic.
THE LITTLE DEATH (Canada, 12 minutes)
Dir: Antoine Rail
Leo goes out on a date not knowing that he is walking directly into a trap.
THE LOAD (IL FAGOTTO) (Italy, 15 minutes)
Dir: Giulia Giapponesi
The low birth rate is making one town disappear. The government is imposing measures, and not just psychological ones. Females who don't contribute to the demographic future of the country are seen as a problem to resolve, thus every year they are called to declare to a government office the reason why they haven't had any babies in the last twelve months. In an out of time world, that reminds us more with every passing day, Bianca and Vittoria are at the opposite ends of their fertility time. Their acquaintance forces them to choose in an instant the direction of their future: any choice will result in a radical change of their destiny.
LONG DISTANCE (Israel, 20 minutes)
Dir: Or Sinai
Rachel is losing her sight to the point she can't even manage doing the smallest daily functions, like dialing the phone. She opens her door to passing strangers, on a tiny but significant journey, to reach out to her daughter, on the other side of the world.
LOVE IS JUST A DEATH AWAY (Czech Republic, 12 minutes)
Dir: Bára Anna Stejskalová
A tender story about finding love even amid utter decay.
MAMA (Spain, 30 minutes)
Dir: Pablo de la Chica
At the the Lwiro Primates Rehabilitation Centre (CRPL) in the Democratic Republic of Congo for traumatized baby chimpanzees, Mama Zawaldi embodies the healing power of love. "The bond of love is key to everything," Mama Zawaldi insists, in this hauntingly beautiful landscape with its shadow of horror.
MAMA (Canada, 10 minutes)
Dir: John Edwards
A mother and son struggle to survive in a vast wilderness, exploring the divine connection between motherhood and Mother Earth.
A Spanish language short film, starring a real life mother and son, written and directed by their husband and father. Filmed off the coast of Vancouver Island, Canada. Created by Canadian, Colombian and Maltese filmmakers.
MOON (LUNE) (Canada, 15 minutes)
Dir: Zoé Pelchat
Babz Dubreuil, a lonely ex-convict, works as a cook in a brunch restaurant. Encouraged by a colleague, she asks an attractive customer on a date. It might be the beginning of redemption.
MUSTACHIO (SNORRIE) (Netherlands, 12 minutes)
Dir: Victoria Warmerdam
An absurd tragicomedy about thirty-something Freek, who is reuniting with his imaginary friend from the past, who is looking for closure.
MY MOTHER'S GIRLFRIEND (India, 15 minutes)
Dir: Arun Fulara
Renuka and Sadiya, two working-class women in love with each other, enjoy their day out celebrating Renuka's birthday. After a fun-filled day, they head home to spend the night together. But unknown to them, Renuka's son, Mangesh, is around.
ON THE OTHER SIDE OF THE MOUNTAINS (DE L'AUTRE COTÉ DES MONTAGNES) (France, 14 minutes)
Dir: Nina Doré
In an orphanage lost in the middle of the mountains, little girls have never known the outside world. Anna, a ten-year-old girl, wants to be free.
PAIN (New Zealand, 9 minutes)
Dir: Anna Rose Duckworth
A young girl has an earth-shattering realization that her father is not invincible, after a cricket accident exposes his vulnerability.
PERSONALS (Canada, 13 minutes)
Dir: Sasha Argirov
When an encounter at a glory hole sparks an unexpected connection, two socially anxious loners must risk vulnerability to find the intimacy they yearn for.
PIMENTO! (USA, 6 minutes)
Dir: Caleb Carl Nelson
Pimento! follows a tiny goblin's misadventures as she's sent out on a special errand: stealing from the sprawling human-populated metropolis Ballyhoo! Only time will tell if she's enough of a monster to commit heinous crimes, or if her moral compass will stand in her way!
THE PIRANHAS (LAS PIRAÑAS) (Colombia, 14 minutes)
Dir: Anderson Ascanio
Juan Pablo (16) lives with a dysfunctional family feeling very distant from them. His parents work in a weird business for which he must deliver packages. Richard, his sister's boyfriend, invites him to join a garage band that Juan Pablo cannot stand anymore, so he decides to run away.
THE PRATT IN THE HAT (USA, 15 minutes)
Dir: Susan Hillary
Beneath the brims of hundreds of colourful hats is a woman who shares her wisdom, humour, and personal experiences about being black in America, then and now. Frances Pratt's hats make a bold statement as do her Southern charm and pithy expressions which she gathered from a lifetime of service to her community fighting for racial equality, voting rights and education.
PROBLEM (Poland, 15 minutes)
Dir: Tomasz Wolski
A seemingly normal afternoon in the city gets disrupted as passers-by are temporarily unhinged from their daily business. A man lying on the pavement becomes a problem not only for the local tenants, but also medical services and the police.
REMANENT (RÉMANENTE) (Canada, 10 minutes)
Dir: Alexandre Mullen
After environmental collapse confines people indoors, survivors cling on to the past through a digital recreation of the cities of yesterday. Every day, Zack chases the same elusive jogger, a programmed background character modeled after a woman he used to know.
ROBERTO (Spain, 9 minutes)
Dir: Carmen Córdoba González
Fifteen years have passed and Roberto is still in love with his neighbour, but she prefers to hide, ashamed of her body. With his art and an old clothesline as the only means of communication, Roberto has a plan to push his beloved to face her monsters at last.
ROSA (Canada, 19 minutes)
Dirs: Jean-Michel Gervais, Gabriel J. Lemay
After being touched by a patient's story, a psychiatrist learns the hard way that appearances are sometimes deceptive.
SCARS (Canada, 10 minutes)
Dir: Alex Anna
Alex Anna's body is a canvas : her scars come to life to tell a new story of self-harming. Live action and animation intertwine in this short and poetic documentary, both intimate and universal.
THE SCHOOL BELL (Canada, 4 minutes)
Dir: Delaram Majdzadeh
Based on a true story (kind of…). A young girl goes to an all-girls' middle school in Iran while secretly bringing in her manga with her. One day her friend finds out and chaos ensues.
THE SCHOOL BUS (SERVIS) (Turkey, 14 minutes)
Dir: Ramazan Kılıç
Nebahat, a teacher in her 20s, has just been appointed to a rural village school in Anatolia. She realizes that her students are struggling to arrive at school, hitchhiking on tractors, using whatever means they can find. She asks the Ministry of Education for a shuttle, but without a driver, the vehicle is useless. So, she decides to be the bus driver for her students, but she does not know how to drive!
SINCE YOU ARRIVED, MY HEART STOPPED BELONGING TO ME (USA, 21 minutes)
Dir: Erin Semine Kökdil
Central American mothers journey by bus through Mexico, searching for their children who migrated north towards the United States but disappeared en route.
SQUISH (SPRÖTCH) (Belgium, 20 minutes)
Dir: Xavier Seron
Flo has to go to Marrakech for work. Tom takes care of Sam, their five-year-old son. When he forgets about Sam's guitar lesson, Flo calls to blame him about it. Tom hates to be caught. He takes Sam with him and drives out of the garage at full speed. "Sprötch"… Tom has just run over something.
STARCHED COLLARS (CUELLOS ALMIDONADOS) (Peru, 12 minutes)
Dir: Daniel Rodríguez Risco
In the square and tidy universe of an unconventional family, Mother is the guardian of order and Junior the distorting agent. A house where everything that doesn't fit, goes to waste.
STILL PROCESSING (Canada, 17 minutes)
Dir: Sophy Romvari
A box of stunning family photos awakens grief and lost memories as they are viewed for the first time on camera. Filmmaker Sophy Romvari documents her first-hand experience as an exploration into cinema as therapy in this nonfiction short.
SUNGURA (RABBIT) (Kenya, 20 minutes)
Dir: Lydia Matata
A woman with a disability wants to buy a vibrator from a traditional sexologist, or senga during a friend's bridal shower; but she must confront other women at the party who believe that she is non-sexual because she uses a wheelchair, so shouldn't need a vibrator in the first place.
TIME TO VOTE (VOTAMOS) (Spain, 14 minutes)
Dir: Santiago Requejo Lopez-Mateos
What begins as an ordinary board meeting in a traditional apartment building to vote to repair the elevator turns into an unexpected debate about the limits of peaceful coexistence.
TO THE LAST DROP (BIS ZUM LETZTEN TROPFEN) (Germany, 6 minutes)
Dir: Simon Schnellmann
In the rhythm of the dripping chemo, an IV-pole fights for the life of a cancer patient.
TURNING TO DUST (PARTIR EN POUSSIÈRE) (France, 20 minutes)
Dir: Hüseyin Aydin Gürsoy
Due to unpaid wages, Elif and her husband are deep in debt. Elif's husband wants to return to Turkey, but she believes there's a better future for her son in France.
WAR AND HONEY (Ukraine, 7 minutes)
Dir: Matthew Ritenour
Soldiers returning from the frontlines in eastern Ukraine are facing many difficulties reintegrating into society. Thousands have lost their jobs, their family members or their homes. Many are struggling with mental health issues and social stigmas. With a grant from the IFRC, Pavlograd Legion has taken a unique approach in supporting veterans to get back on their feet.
WASHING MACHINE (Czech Republic, 5 minutes)
Dir: Alexandra Májová
Wash and love.
WE HAVE ONE HEART (Poland, 11 minutes)
Dir: Katarzyna Warzecha
After his mother dies, Adam comes across some letters his parents exchanged years ago. This is an opportunity for him to find out more about his father, who he never knew. The juxtaposition of animated drawings and archival material takes us back forty years and enables us to uncover an extraordinary family secret.
WE STAY IN THE HOUSE (USA, 15 minutes)
Dir: Kiyoko McCrae
We Stay In the House provides an intimate portrait of four mothers in New Orleans as they struggle to care for their families and themselves throughout the COVID-19 pandemic. Between taking care of their children, finding time to work, and coping with personal loss and health crises, these women's stories represent the lived realities of millions of mothers in America.
WORLD CUP (Iran, 18 minutes)
Dir: Maryam Khodabaksh
On the night of a couple's migration, the child of their friend who has been entrusted to them gets lost, and then a secret is revealed.